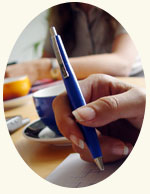 Once you have compiled the final draft of your guest list and have verified that all names are correctly spelled, you will create a master address list that includes all pertinent information. To do this, print as many copies of our Guest Cards or Guest Sheets as you feel you will need and start filling in the requested information. If you use the Guest Sheets, try to have your names in alphabetical order before filling out the sheets.

If you use the Guest Cards, purchase a small card file, index cards with alphabetical tabs, and some with blank tabs. Label the blank tabs, "Confirmed" and "Declined."
Once the guest RSVPs, pull their Card and if they will attend, complete any missing information. Then move the card to the "Confirmed" section and place in alphabetical order. If they will not attend, pull their card and move to the "Declined" section in alphabetical order. Make sure you keep your declined cards as they may change their plans and decide to attend, or send a gift that you will want to record (see Gift Record Keeping).
Two weeks prior to the wedding, pull any remaining cards and have a friend or family member contact the guest to inquire as to their attendance plans.