Wedding Invitations & Wedding Stationery
One of the most creative and enjoyable parts of planning a wedding is choosing the wedding invitation stationery. It's also one of the first steps you take – long before researching ceremony and reception venues. Before you start looking at wedding invitations or wedding stationery options, it's a good idea to have an overall design concept for the wedding. Your wedding invitation is the first thing potential guests will notice about the event, and it will help them determine whether or not they will be attending.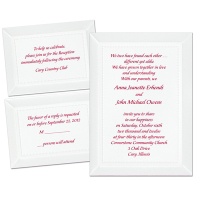 Display of Affection (White) - Separate and Send Invitation
---
Your guests can tell a lot about your wedding invitations beginning with the wedding envelope. They will get a feel for what type of wedding it's going to be. Is it a formal wedding or a casual marriage celebration? Traditional or modern? Remember to keep it personalized and unique to your style.
Paying close attention to invitation details will guarantee a spectacular announcement to the world of your upcoming union! From budgeting and formulating the guest list to choosing the perfect font and tracking RSVP's, this is your comprehensive guide to designing and printing wedding invitations and wedding stationery. Follow the links both above and below for more information about wedding invitations, wedding stationery, and printers that specialize in designing and printing quality wedding stationery. Begin addressing your wedding invitations 6-8 weeks before your wedding. It's a good idea to work with a professional, experienced wedding stationery printer. Your invitations should be mailed 4-6 weeks prior to your wedding. Your RSVP date should be at least two weeks prior to the wedding date. This allows time to call those people who have not replied and helps you get a final headcount well in advance of your wedding.
Before purchasing your stamps, take one complete set to the post office and have it weighed. This will guarantee you have enough postage on each envelope. Remember to purchase stamps for the RSVP envelopes as well as the invitations.
---