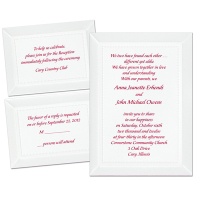 Display of Affection (White) - Separate and Send Invitation
---
It is best to start compiling your wedding guest list as soon as possible after choosing the wedding date. The bride and groom, along with their parents, should compile a rough draft that can then be edited to fit size and budget restraints.
Use our Guest List Sheets and Guest List Cards to keep track of who will be attending your wedding.
Once you have completed your guest list, it is time to determine your budget. At this point, you may be required to modify your guest list to accommodate your budget or the size of your wedding venue. Keep in mind that a certain percentage of people on your guest list will be unable to attend.
---