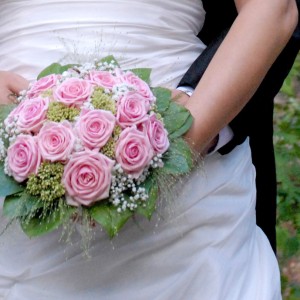 ---
Wedding Flowers and Wedding Floral Art Arrangements play an important role during the wedding ceremony. One of the most fun and effective ways to make your wedding day stunning is the use of flowers and floral art. Both real flowers and artificial wedding flowers and floral arrangements can elevate the look and feel of your special day. From floral bouquets, table centerpieces and floral swags to corsages, poseys, and boutonnieres, there are many factors to consider when choosing flowers and floral arrangements.
Obviously, your wedding colors and theme will have a big impact on what kind of flowers you will choose. Are you having a spring wedding or a winter wedding? Will you be at the beach or in a church? Do you plan to include fresh flowers in the cake design? Such questions will help you fine-tune the flowers for your wedding.
Whether you are interested in a traditional rose bouquet or are looking for something slightly more contemporary, Country Weddings is a great resource to help you plan your wedding flowers. On these pages, you will find guides to seasonal and regional flowers, how to select the perfect florist for your occasion, how to budget for flowers, and important questions to ask any potential florist before making your decision.
Wedding Floral Arrangements and Flower Sale

| Photo | Title | Price | Buy |
| --- | --- | --- | --- |
| | rongflower Artificial Rose Flower Runner Rustic Flower Garland Floral Arrangements DIY Wedding Ceremony Backdrop Arch Flowers Table Centerpieces Decor (6FT Long, White Pink) | $39.99 | On Sale Now |
| | Inweder Wedding Flower Balls for Centerpieces - 10 Pcs Artificial Flower Ball Arrangement Bouquet, Fake Flowers Rose Balls for Weddings, Birthday Party, Valentine's Day, Home Decor, Pink & White | $85.95 ($8.60 / Count) | On Sale Now |
| | JPSOR 2pcs Artificial Wedding Arch Flowers for Ceremony, Fake Rose Garland Flower Swags for Floral Arrangement Reception Backdrop Decoration (Ivory Greenery) | $23.99 | On Sale Now |
| | Ling's Moment Sunflowers Artificial Flowers Combo Box Set Rustic Theme for DIY Wedding Bouquets Centerpieces Garlands Arch Floral Arrangements Decorations | $29.99 | On Sale Now |
| | floroom Flowers with Drapes Kit - 2pcs Artificial Floral Swag Arrangement with 2pcs Draping Fabric for Wedding Ceremony Arbor and Reception Backdrop Decoration | | On Sale Now |
| | Artificial Flowers Fake Roses Can be Placed Directly The vase has Been Included Floral Arrangement for Living Room Wedding Home Garden Decor (Rose-White-Cylinder-High) | | On Sale Now |
| | Ling's Moment Wedding Arch Flowers with Drapes Kit (Pack of 5) - 2pcs Artificial Flower Arrangement with 3pcs Drapes for Ceremony Arbor and Reception Backdrop Decoration | $235.99 | On Sale Now |
| | DORIS HOME Wedding Aisle Decorations White Pew Flowers Set of 10 for Wedding Ceremony Party Chair Decor with Artificial Flowers Eucalyptus and Ribbons | $59.99 ($6.00 / Count) | On Sale Now |
| | Serra Flora Wedding Arch Flowers Swags Kit (Pack of 2) for DIY Artificial Peony Greenery Arrangements Party Welcome Ceremony Sign and Reception Backdrop Floral Decoration (White Orange) | $58.99 ($29.50 / Count) | On Sale Now |
| | Ling's Moment 6.5ft Backdrop Floral Garland with Hanging Vines for Wedding Arch Ceremony and Reception Backdrop Floral Arrangement Decor | Dusty Rose Mauve | $119.99 | On Sale Now |
---