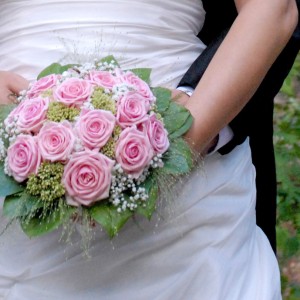 One of the most fun and effective ways to make your wedding day stunning is the use of fresh flowers. From bouquets, table centerpieces and floral swags to corsages, poseys, and boutonnieres, there are many factors to consider when choosing flowers for your big day.
Obviously, your wedding colors and theme will have a big impact on what kind of flowers you will choose. Are you having a spring wedding or a winter wedding? Will you be at the beach or in a church? Do you plan to include fresh flowers in the cake design? Such questions will help you fine-tune the flowers for your wedding.
Whether you are interested in a traditional rose bouquet or are looking for something slightly more contemporary, Country Weddings is a great resource to help you plan your wedding flowers. In these pages you will find guides to seasonal and regional flowers, how to select the perfect florist for your occasion, how to budget for flowers, and important questions to ask any potential florist before making your decision.


---