Renaissance Theme Wedding
A Jane Austen themed wedding is possible for your intimate marriage celebration. Contact the innkeeper at The Governor's House in Hyde Park and explain your themed wedding desires.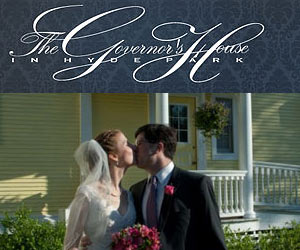 Governor's House in Hyde Park ~ Hyde Park, VT
A comfortable B&B with the gracious elegance of an earlier time. Weddings and an affordable all-inclusive elopement package with many extras. And for the adventurous couple, our "marriage made in heaven" takes place in a hot-air balloon.
Large chunky candles are a very important part of this theme, as well as choosing a location with plenty of stonework. Decorate with elegant tapestries, ivy leaves, wheat, and small wildflowers. Feed your guests their own individual meat pies, cheese, breads, and wine. Have your bridesmaids and groomsmen wear dark colors, such as green or purple. The bride can have long flowing hair with small braids and a wreath of flowers. Give your guests a cd with the songs from your wedding.
Victorian Theme Wedding

A large, white gown complete with ruffles and lace is required for this theme. Wear your hair pinned up and curled at the ends along with a pearl necklace and earrings. Send your groom, groomsmen, bridesmaids, and yourself off to dance lessons to learn some of the dances that were performed. Many of them were group dances and would add a lovely performance to your reception. Decorate with vibrant flowers, such as those that are found in many English gardens. Serve your guests many delicate pastries and some afternoon tea.
1960's Theme Wedding
Think Woodstock… decorate with bright, rich colors, including tye-died accessories. The bride and bridesmaids should wear light gowns with flowing hair, and the groom and groomsmen should wear pants with bright, loose flowing shirts. Listen to songs from The Grateful Dead, Bob Dylan, etc. Send your guests off with mood rings or hemp necklaces.
1970's Theme Wedding
Celebrate your wedding disco style. Break out the bell-bottom pants, short skirts, and platform shoes to dance your night away. Decorate with a huge disco ball, lava lamps, and flashing lights. Send your guests home with a cd of all the songs played from your wedding reception so that they can have fun dancing with their significant other, time and time again.