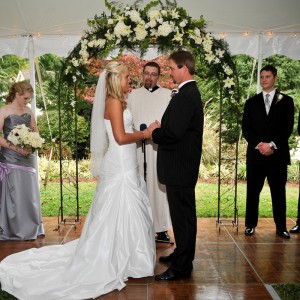 ---
Today's wedding ceremonies are performed in a greater variety of styles than in any past century.
Before planning the details of your wedding ceremony, you must first determine the type of ceremony you desire. In today's modern age, there are countless options to choose from. You can opt for the traditional church wedding, or a more casual approach with a civil union at a location of your choice. Military weddings are the perfect touch if either bride or groom are members of a military branch.
You then must choose a ceremony site. Remember these can book up very early. Just like the reception venues, you need to make this a priority.
Once your wedding ceremony service and site have been established, the next step is to determine how you wish the ceremonial events to progress. When writing your wedding vows, be sure to keep with the overall theme of the wedding. Whether biblical, secular or personalized there are numerous approaches to creating the perfect wedding ceremony for you and your fiancee.

In addition to writing your own wedding day vows, another hot wedding trend is having a "themed" wedding. The themed wedding offers limitless options and can cover anything from a Roaring 1920's concept to a Hawaiian-themed beach wedding.