Maine Weddings can be many things: a Downeast Maine ocean front gala to a quiet destination wedding at a beautiful Maine Inn or National Park.  Coastal Maine Weddings provide many photo backdrops like Maine lighthouses, waves crashing on the rocky coast and southern sandy beaches.  A Maine resort or inn by the sea destination wedding often features a lobster clambake or sunset Atlantic Ocean cruise.  In Maine you can even get married on board an amazing floating restaurant – DiMillo's! Take your wedding party out to sail the ocean on a schooner or on a tour boat from Bar Harbor or Boothbay.  Or venture to Sebago Lake for a sunset lake cruise.  Sunday River will give you a great view of the Maine Mountains and surrounding hill sides.  A Maine wedding will be filled with memories that last a lifetime. Find our suggested Maine Wedding and Honeymoon Venues by visiting the links below.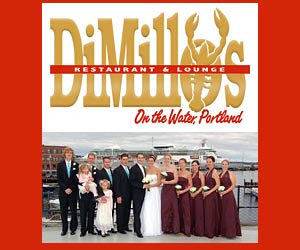 DiMillo's on the Waterfront - Portland, ME
DiMillo's Floating Restaurant would like to assist you in providing a memorable wedding reception. With a beautiful view of Portland Harbor. Weather permitting, you can exchange vows on one of our scenic outside decks.