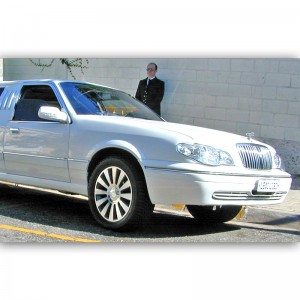 ---
Although the most common method of wedding day transportation is traditionally the limousine, today's couples are opting for more inventive and whimsical modes of transport to their wedding festivities. This is your big day, after all, so why not keep the ride as great and unique as every other detail of your wedding?

Wedding Transportation
Hiring limousine drivers are not a necessity, but it is an affordable luxury that will alleviate stress about everyone's schedules. Be wise and shop around when shopping for a wedding limo service, rather than hiring the first company you find. Ask them questions regarding their limousine services and verify that you are dealing with a reputable limousine company – you don't want to be late for your wedding because the limo broke down on the side of the road or (and it's happened) the chauffeured limo driver got lost!
If you're looking for something a bit out of the ordinary, be sure to check out our Fun Options guide.
Wedding Limos
If you're having a destination wedding in another location, be sure to review our wedding transportation by region section for great recommendations, limo services, classic autos, and horse-drawn carriages as well.
Limo Hiring Tips
When shopping for a limousine service be sure of the exact type of vehicle that you will be renting. Most limousine companies offer a wide variety of "limo rentals" – don't be surprised if your "limo" is actually a custom mini-van or even a regular automobile. Clarify and specify the type of limo you are expecting. If you want only a full-service Cadillac or Lincoln stretch limousine, then be sure that is what you are quoted on and is what your limousine driver will arrive to pick you up in. One man's limo is another man's van! Be specific about what you expect to be chauffeured in.

---