On the day of your wedding, the last thing that you want to have to worry about is the food that will be served; how good it will be, whether or not there will be enough for everyone, that the centerpieces and table arrangements are nicely presented, etc. A good caterer or mobile chef service will be able to take that stress off your hands, leaving a big effect on the pace and atmosphere of the wedding reception. These questions will help you to find the perfect wedding caterer who is equipped with both good food and professional service so that your guests will leave with only pleasant memories of your special day: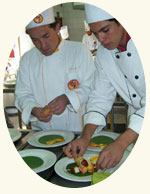 Does your caterer or mobile chef service have a catering license, liquor license, and liability insurance?
A caterer with a license and insurance must register with the state and comply with all health codes.
Does your caterer or chef have references?
Past customers can tell you about the caterer's food, personality, professional skills, and his or her ability to handle the unexpected.
Can you taste some of your caterer's food?
Good caterers will let you sample foods to help you decide on your menu, and see photos of the food they've served at previous wedding receptions to check presentation.
Can your caterer provide the cake?
You can cut down on the number of vendors you have to deal with by getting the wedding cake from your caterer, but if you're looking for something unique, work with an independent baker who specializes in wedding cakes.
Who provides tables, dinnerware, flatware, glasses, tablecloths?
Some caterers provide everything. Some do not. The reception venue can often supply what the caterer cannot.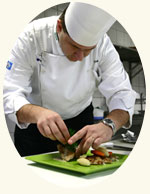 Can your caterer help with the decorations?
Make a checklist of decoration items and ask your caterer if s/he can handle them while setting up.
How many service people will be on hand?
Check to see how many servers, bussers, and bartenders will be provided, then make sure the same number shows up.
Who will be in charge while the meal is served?
Your caterer should be present, but if he or she can't be there, get the name of the person who will be in charge, and work with this person during the planning stages so that you'll have a good working relationship established when the big day arrives.
What are the hidden costs, such as cake cutting, overtime, tax and tip?
Discuss all unexpected costs with the caterer in advance so you aren't surprised when you get the final bill.
What are the financial arrangements?
Find out how big of a deposit the caterer needs and when the balance will be due. What happens if you cancel? Is there a refund policy if something goes wrong that is the caterer's fault? Work out financial details well in advance to avoid overspending.
---

WEDDING DECORATIONS

Peel and stick, repositionable
Safe for walls: always removable and leave no sticky residue
Sticks to most smooth, flat surfaces
Comes on four 17.25-in x 9.75-In sheets
Contains 59 pieces
**ATTENTION** FLUSH MOUNT TO CEILING JUNCTION BOX (installation required) - transform your favorite spaces! Our customers amaze us with where they use our chandeliers including entry way, dining room, nursery, bedroom, bathroom, closet, hallway, stairwell, game room, porch, girls room and even the garage! Our acrylic crystal chandeliers are elegant, suave & sophisticated, and at an affordable price.  A delightful mixture of crystals, beading and swag. The possibilities are limitless!
STRONG & LIGHT WEIGHT-highest quality THICK & FACETED acrylic crystals, Better Than Glass! We use poly-carbonate crystals which is the same material used in bullet proof windows and eye lenses, very light and strong. Glass scratches & breaks easily, needs to be assembled one piece at a time, is heavy and costly. Poly-carbonate acrylic will reflect and refract light similar to glass, comes in many different colors and is way easier to assemble and install than glass. Give it try, we think you'll like it!
INNOVATIVE DESIGN – designed in Austin, our chandelier folds flat for shipping, less damage & waste! Our chandelier was designed specifically for shipping right to your door. We figured out how to ship a chandelier folded flat, almost fully assembled, which cuts way down on packaging, weight, damages and waste. So, don't be surprised when a flat box shows up at your door. It may seem odd at first but it's actually a very innovative, smart, environmentally friendly design, which is awesome!
EASY TO INSTALL -unfold arms, position cups, connect strands and it's ready! All components and installation instructions are included for easy assembly and installation. Uses E12 chandelier bulbs (BULBS NOT INCLUDED). The chain hangs up to 23 inches from the ceiling but can be shortened by removing chain links for perfect height. This seller is located in Austin, TX and can provide a full range of support.
UL CERTIFIED - ALWAYS AUTHENTICATE UL SAFETY & QUALITY - highest quality standard & safety rating available in lighting! Your chandelier is designed and supported in the USA by a local business out of Austin, Texas. The supplier offers a 1 Year Warranty against all defects including missing parts or replacement components. Must contact the supplier directly.
ECO-FRIENDLY SOLAR LIGHTS TO BRIGHTEN UP ANY OUTDOOR SPACE -A renewable and clean energy - powered by electricity, converted from solar power during the day - stored in a rechargeable 1. 2V AAA 300mAH Ni-MH Battery - Runs up to 8 hours with a full charge of sun light
Perfect Size: - This backyard decoration for gardens at a full 21.5cm Wide and 12.5cm high makes an impression wherever you put him - on the balcony, patio, in the yard, on the lawn or even on a wide window sill.
【Professional After-Sales Service】:- We take your shopping experience very seriously,If you have any questions about solar turtle, please contact seller directly to provide you with a satisfactory after-sales guarantee. Order without worries.
Easy to Use - Simply turn the Turtle figurine on and leave it in the "on" position during the daytime. The solar panel will charge during the daylight hours and light up automatically at night. The LED lights will fully charge within 6-8 hours and will light up for 8-10 hours.
A Great Garden Gift -The solar garden statue comes in his own beautifully designed box. A perfect choice as a gift for Mom/Grandma/Wife/Daughter/Sister/Aunt/Grandma,girlfriend/boyfriend, wife's wedding anniversary, child's birthday,mother's birthday, or Mother's Day, Father's Day,Thanksgiving Day,Valentine's Day and Christmas.