Wedding Cake Flavors & Options
The taste, flavor, and texture of your wedding cake are equally as important as its appearance. The flavor should be distinguishable and the texture should be moist. The traditional wedding cake has been snow-white with a moderate vanilla flavor and white frosting. More recently, cake flavorings have taken on a variety of not-so-traditional characteristics.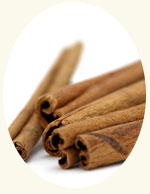 The change has come about primarily due to the overall trend toward diverse cuisine alternatives, coinciding with popular flavoring trends. Without a doubt, the cake flavor should be decided upon by the bride and groom and should reflect the style of the wedding.
A more formal wedding would be nicely complemented with a more traditional cake flavor, while a themed wedding reception can succeed with a cake flavored and designed to coincide with the theme.
While not a rule of thumb, seasons do play a role in cake flavoring, with vanilla being pure as the winter's driven snow, a lemon poppy seed flavor beams with spring sunshine, dark chocolate provides a delightfully earthy summertime treat, and a spiced carrot cake warms with autumnal overtones. Of course, a plain yellow cake always tastes heavenly and is appropriate at any time of year. Remember to ask your baker for taste samples of the different wedding cake flavors they offer.
Again, it is up to the bride and groom to decide on their cake's flavor, and whatever makes them happy will also be pleasing to their guests.
---
Cake Frosting Choices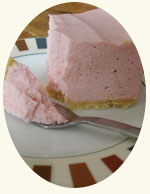 Wedding cake frosting types and flavors vary as much as cake styles and flavors. There is no right or wrong frosting type or flavor, but your frosting should complement the cake flavor and work well with your chosen decorations.
Factors to consider are the air temperature and reception location. Some cake frostings do not hold up well in warm, humid sunshine – buttercream may liquefy, gum paste flowers may go limp, chocolate curls may melt, and fresh flowers might wilt.
Outdoor receptions fall prey to insects that love sweets, and wind can wreak havoc with tablecloths and blowing particles.
Following is a list of frosting options to help you decide:
Butter Cream
A light and delicious butter-based frosting with unlimited flavoring options.
Gum Paste
A thick pasty frosting used for creating flowers, fruits, and other decorations.
Marzipan
A matte-finished coating made with an almond paste – deliciously unique.
Meringue
A light and airy frosting that works well with any flavor cake.
Rolled Fondant
A matte-finished coating that resembles porcelain and helps keep the cake fresh.
Royal
A very hard icing that works well with delicate decorations.
---
Cake Decorating Ideas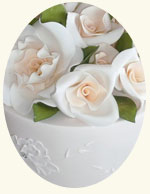 Wedding cake decorations vary widely and usually follow the design of the bride's gown and the overall wedding theme.
A traditional, formal wedding style will be nicely complemented with a towering formal cake with an ornate and delicate lace pattern dappled with ribbons, bows, rosettes, pearls, and sequins – similar to those found on the bridal gown. The cake for a casual wedding reception can also be formal, but again usually follows the overall wedding style and is, therefore, less intricate.
The cake decorations can be made of gum paste, meringue, or marzipan, and can include sugared fruits such as miniature pears, berries, and champagne grapes. Fresh flowers add a beautiful touch to the cake, especially between tiers and on top. The flower arrangement should reflect the bride's bouquet and other reception appointments. Be sure the flowers have not been treated with a chemical spray.
Other cake decorations include candles and fountains. Candles can be placed around the outer rim of the layers, and fountains are usually placed between the tiers and on top. Fountain types range from small and delicate to large, sprawling creations that extend from the wedding cake outward over the surrounding table area.
The traditional bride and groom statuette cake ornament is still widely used, as is the twin-bell style. When selecting your ornament, consider the weight in relation to the cake design. A heavy ornament atop a multi-tiered cake could pose the risk of falling and damaging the other layers of the cake.
Other ornament ideas include flowers, sparklers, a framed photograph of the couple, looped wedding rings, hearts, or a custom-made themed topper to coincide with a themed wedding.
.
---