Wedding cake styles and prices vary dramatically due to the wide range of designs, cake styles, and sizes. The wedding cake price is set by the bakery but based on the time involved in creating the overall cake design and the number of servings you request. The more elaborate the design, the more expensive your cost per slice of wedding cake.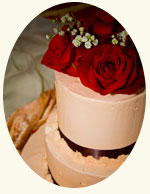 Wedding Cakes, Wedding Cake Prices, Bakery Prices, A simple wedding cake should not cost more than $2 – $3 dollars per slice. Some elaborate wedding cakes by well-known wedding cake designers can cost as much as $15 – $20 per slice.
Consider having two wedding cakes created. One cake for the bride and groom to be used during the cake cutting ceremony and the other to be served in slices to the wedding guests. This can result in substantial savings. You can have the display cake taken to the kitchen and the served pieces brought out after the cake cutting ceremony is over.

Wedding Cake Vendor Tips: Get a signed agreement that includes the wedding cake details, delivery date, pricing, and delivery location information. Most wedding cake bakeries will require a deposit of up to 50%. The wedding cake balance is usually due one to two weeks prior to the wedding.

---
| Photo | Title | Price | Buy |
| --- | --- | --- | --- |
| | Joy Ceremony Wedding Cake Decorations, Artificial Birthday Cake Flower Arrangement, Rose Flower Wedding Cake Toppers (Peach Cream) | | On Sale Now |
| | SAOROPEB 3D Butterfly Wall Decor 48 Pcs 4 Styles 3 Sizes, Gold Butterfly Decorations for Butterfly Birthday Decorations Butterfly Party Decorations Cake Decorations, Removable Stickers (Gold) | $6.99 ($0.15 / Count) | On Sale Now |
| | Natural Boho Cake Topper Artificial White Flower Gold Palm Leaves Eucalyptus Leaves Dried Flowers Cake Decorations for Wedding Baby Shower (gold) | $10.99 | On Sale Now |
| | TANG SONG Rustic Style Stainless Steel Wedding Cake Knife and Serving Set Resin Plastic Handle with Twine Heart Love Wood Tag and Burlap Lace Design | $13.99 | On Sale Now |
| | Edible Pearl Sugar Sprinkles White Candy 120g/ 4.2oz Baking Edible Cake Decorations Cupcake Toppers Cookie Decorating Ice Cream Toppings Celebrations Shaker Jar Wedding Shower Party Christmas Supplies | $8.49 ($2.01 / Ounce) | On Sale Now |
| | Acrylic Alphabet Cake Topper DIY Custom Cupcake Toppers with A-Z Letter Mirrored Gold Picks for Personalized Name Cake Decorations Anniversary Wedding Baby Shower Happy Birthday Party Supplies | | On Sale Now |
| | Luxtomi - Wedding Cake Toppers, Wedding Cake Toppers Bride and Groom, Custom Cake Topper, Customize Your Own Anniversary (Style 1, Metallic Gold Both Sides) | $24.99 | On Sale Now |
| | JIEEIN Mr and Mrs Cake Topper, Bride and Groom Sign Wedding, Engagement Cake Toppers Decorations, Double-faced Gold Glitter | $8.69 | On Sale Now |
| | 12 PCS Wedding Engagement Anniversary Cake Decorations Kit with Mr and Mrs Cake Topper Rose Flower Leaves Cake Toppers Decorations | | On Sale Now |
| | Clear Acrylic Cupcake Stand 4 Tier Square for Birthday, Wedding Party, Graduation, Anniversary, Gender Reveal Party Decor, LED Light String Cupcake Tower Holder, Party Supplies Decorations for Display | | On Sale Now |
| | Acrylic Alphabet Cake Topper DIY Personalized Name Cupcake Toppers with A-Z Letter Mirrored Gold Picks for Custom Wedding Cake Decorations Baby Shower Happy Birthday Party Supplies (Uppercase) | $7.99 | On Sale Now |
| | Wedding Cake Topper - Rustic Theme for Bridal Shower Engagement Anniversary Party Decoration , Personalized Heart Shaped , Wooden | $8.99 | On Sale Now |
| | 28 Pieces Boho Cake Toppers Wedding Cake Topper Baby Cake Decorations Faux Flower Palm Leaves Eucalyptus Leaves Dried Flowers Cupcake Toppers for Birthday Party Wedding Baby Shower Supplies (Natural) | $10.99 | On Sale Now |
| | Serra Flora Artificial Flowers Combo for DIY Centerpieces Arrangements Wedding Bridal Bouquet Table Chair Candle Holder Baby Shower Cake Flower Home Decor | $19.49 | On Sale Now |
| | AW BRIDAL Cake Cutting Set for Wedding- Mr and Mrs Cake Cutter, Wedding Cake Knife and Server Set Personalized Anniversary Valentines Gifts | $16.99 | On Sale Now |
| | 28 Pcs Boho Cake Topper Decorations Vintage Artificial Rose Flowers Leaves for Cake Decorating Kit Dried Faux Flower Decor for Bohemian Wedding Bridal Baby Shower Birthday Party Supplies (Natural) | $15.99 | On Sale Now |
| | EBOOT 4 Row 10 Yard Acrylic Rhinestone Diamond Ribbon for Wedding Cakes, Birthday Decorations, Baby Shower Events and Arts and Crafts Projects (Silver) | $7.19 ($0.24 / Foot) | On Sale Now |
| | Cake Stand Set-8 Pcs Gold Cake Stand -Dessert Table Display Set-Cake Stands for Dessert Table-Table Decoration Display Tower Plate for Baby Shower, Wedding, Birthday Party, Chrismas Celebration | $49.98 | On Sale Now |
| | 24 PCS Balls Cake Toppers Bubble Mini Balloon Topper Pearl Insert Cupcake DIY Decoration for Wedding Anniversary Graduation Birthday Party Baby Shower | $9.99 | On Sale Now |
| | 18 PCS Natural Boho Cake Topper with Artificial Seeded Eucalyptus Leaves Stems Gold Balls Palm Leaves White Flowers 1M Hemp Rope for DIY Cake Decorations Wedding Baby Shower Birthday Party Supplies | | On Sale Now |
| | Mr and Mrs Cake Topper Rhinestone Crystal Metal Love Wedding Cake Topper Funny Bride and Groom, Gold | $17.99 | On Sale Now |
| | Wedding Cake Topper - Rustic Theme for Bridal Shower Engagement Anniversary Party Decoration , Personalized Heart Shaped , Wooden | $8.99 | On Sale Now |
| | Personalized Wedding Cake Topper, Wooden Cake Toppers, Mr Mrs Heart Customized Wedding Date And Last Name To Be Bride & Groom | $9.99 | On Sale Now |
| | Mr & Mrs Cake Topper ,Bride and Groom Cake Topper, Wedding Anniversary Rings , Engagement Party Decorations (Silver) | $9.99 | On Sale Now |
| | FashionCraft Vintage Style Double Heart Design Cake Topper/Centerpiece, One Size, Cream | $17.99 ($17.99 / Count) | On Sale Now |
| | Luxtomi - Wedding Cake Toppers, Wedding Cake Toppers Bride and Groom, Custom Cake Topper, Customize Your Own Anniversary Mr and Mrs Cake Topper by Choosing The Design, Color, Text Size Made in USA | $24.99 | On Sale Now |
| | Joy Ceremony Wedding Cake Decorations, Artificial Birthday Cake Flower Arrangement, Rose Flower Wedding Cake Toppers (Peach Cream) | | On Sale Now |
| | Mr & Mrs Cake Topper, Wedding Bridal Shower Engagement Anniversary Monogram Acrylic Decoration Gift Favors, Silver (Silver Mr & Mrs 4) | $6.99 | On Sale Now |
| | 4 Pieces Silver Crown Cake Topper Birthday Mini Flower Bouquet Crown Cupcake Toppers Crystal Pearl Tiara Wedding Crown Cake Top Hair Ornament for Doll Flower Arrangements Wedding Baby Shower Decor | $11.99 | On Sale Now |
| | LOVENJOY Gift Boxed Two Hearts One Love Rhinestone Wedding Cake Topper Silver | $17.39 | On Sale Now |
| | Weddingstar Romantic Dip Dancing Bride and Groom Couple Figurine for Cakes, Non Customizable | $49.99 | On Sale Now |
| | Mr and Mrs Wedding Cake Topper - Premium Silver Metal - Sparkly Wedding or Anniversary Cake Topper - Now Protected in a Box | $15.99 | On Sale Now |
| | Rustic Wedding Arrow Cake Topper | Decoration | Beach wedding | Bridal Shower | Initials Cake Topper | Rustic Country Chic Wedding Top | $15.99 | On Sale Now |